Parliament
Parliament of the Democratic Republic of Azerbaijan
The Parliament of the Democratic Republic of Azerbaijan, which functioned approximately for 17 months, had its proper place in the history of Azerbaijani parliamentarianism. Having starting its activity on November 16, 1918, in Baku, the newly established National Council of Azerbaijan acting as the Supreme body of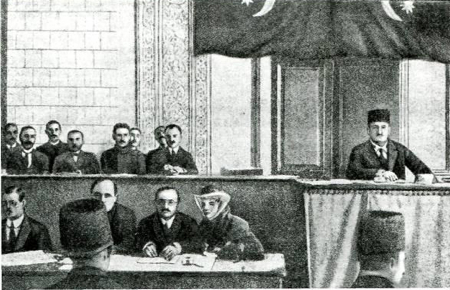 the power in the Republic on November 19, 1918, consisting of 120 members passed the law on establishment of the Parliament of the Democratic Republic of Azerbaijan.
On December 7, 1918, at 1 pm the first session of the Parliament of the Democratic Republic of Azerbaijan solemnly was opened for the first time in the Muslim East in the building of H. Z. Taghiyev's maiden school.
In parliamentary session at the proposal of the Musavat faction, Alimardan bey Topchubashov was elected as a Chairman of the parliament and doctor Hasan bey Aghayev was elected as the first deputy chairman. At that time while A. M. Topchubashov was in Istanbul, H. Aghayev chaired the Parliament. On December 28, 1918, the government of Azerbaijan along with the Parliament's council of old people (respected people) appointed a group of representatives to participate in the general peace conference in Europe to be sent to Paris under the chairmanship of A. M. Topchubashov.
The adopted Law on the Parliament's establishment provided that it was to consist of 120 members. The above-mentioned law provided 21 seats for the Armenian representatives and 10 seats for the Russian representatives – on the basis of Azerbaijan's overall population ratio – neither of them participated in the first opening session of Azerbaijan's Parliament. The Russian National Council joined the Parliament on January 31, 1919, while Armenians did the same only in February of the same year.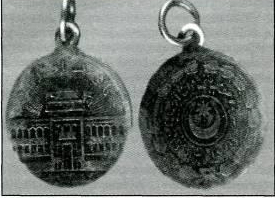 In late 1919, the Parliament approximately consisted of 96 members, representing 11 various parties, factions and groups. The ratio of political parties and associated powers comprising the Parliament was as follows: Musavat and unaffiliated persons faction consisted of 40 members, Ittihad – 14 people, Ahrar – 8 people, the Socialist bloc – 14 people, with no party affiliation – 4 persons, Independents – 4 persons, Russian – Slavic society – 5 persons, the Armenian faction – 5 persons, the Dashnaksyutun faction – 7 persons, and 7 persons – the faction of National Minorities.
The Parliament's work directly complied with the Statute of Azerbaijan's Parliament which played the role of its charter. Based on the Parliament's Statute, the parliamentary sessions beginning from the very first one were necessarily held only in the Azerbaijani language. Other national representatives, however, could speak the Russian language.
During a 17 month activity, the Parliament of the Democratic Republic of Azerbaijan held 145 sessions. Fifteen of those sessions did not take place due to the lack of quorum. During the period of its activity, the Parliament of the Democratic Republic of Azerbaijan discussed over 270 draft laws, of which it adopted about 230. The last session of the Parliament held on April 27, 1920, passed a resolution on transfer of power to Bolsheviks by peaceful means.
The composition of the Parliament of the Democratic Republic of Azerbaijan:
Chairman of the Parliament - Alimerdan bey Topchubashov
1st Deputy Chairman - Mamed Yusif Djafarov
Deputy Chairman - Sultan Majid Ganizadeh (Ganiyev)
Secretary General of the Parliament – Baghir bey Rzayev
Secretaries – Mehdi bey Hajinsky, Bayram Niyazi Kichikkhanly
Musavat and independent factions
Mammad Amin Rasulzade
Hasan bey Aghayev
Nesib bey Yusifbeyli
Khalil bey Khasmammadov
Mahammed Hasan Hajinsky
Abbasgulu Kazemzadeh
Musa bey Rafizadeh
Javad bey Melikyeganov
Mehdi bey Hajinsky
Mehdi bey Hajibababeyov
Rehim bey Vekilov
Shafi beyRustambeyli
Haji Selim Akhundzadeh
Mustafa Mahmudov
Asefbey Shikhalibeyov
Abuzer bey Rzayev
Ahmed Hamdi Garaaghazadeh
Agha Aminov
Neriman bey Nerimanbeyli
Mirze Sadikh Akhundzadeh
Museyib bey Akhijanov
Mustafa Vekilov
Mammad Baghir Shikzamanov
Mammad Ali Rasulzade
Murtuza Akhundov
Rza bey Aghabeyov
Mammad Rza Vekilov
Jalil bey Sultanov
Ashraf Taghiyev
Mammad Yusif Jafarov
Mirza Asadullayev
Yusif Ahmedzade
Bakhish bey Rustambeyov
Fatali Khan Khoyski
Agha bey Safaraliyev
Asadulla Ahmedov
Agha Ashurov
Gulamhuseyin bey Kazimbeyov
Yusifali Aliyev
Mir Hidayet Seyidov
Ittihad faction
Gara bey Garabeyli
Mir Yagub Mehdiyev
Gazi Ahmed bey Mammadov
Jamil bey Lemberanski
Bahram bey Vezirov
Sultan Majid Ganizadeh
Hamdulla effendi Efendizadeh

A group of the members of parliament. 1920

Zeynal bey Vezirov
Heybetgulu bey Mammadbeyli
Ali bey Zizinski
Gara bey Aliverdiler
Asad bey Amirov
Iskender bey Akhundov
Aga bey Safaraliyev
Ahrar faction
Aslan bey Gardashov
Haji molla Ahmed Nuruzadeh
Moukhtar efendi Efendizadeh
Garib Kerimoghlu
Bayram Niyazi Kichikkhanly
Haji Huseyn Efendiyev
Gasimoglu Haji Ali
Abdulla efendi Gabulov
The Socialist faction
Samed agha Aghamalioghli
Ali Heydar Garayev
Gasim bey Jamalbeyov
Haji Kerim Sanili
Ahmed bey Pepinov
Jamo bey Hajinski
Rza bey Garasharly
Aslan bey Safikurdlu
Ibrahim Abilzadeh
Baghir Rzayev
Vladislav Bakradza
Akbar Sheyxulislamzadeh
Ibrahim Ismayilzadeh
Abbas bey Atamalibeyov
Unaffiliated persons
Bahram bey Akhundov
Behbud khan Javanshir
Abdulali bey Amirjanov
Ahmed bey Agayev
Independents
Alimardan bey Topchubashov
Samed bey Mehmandarov
Khudadat bey Melikaslanov
Baba bey Gabulzadeh
Left independent
Abdulla bey Efendizadeh
Russian – Slavic society faction
Victor Klenevski
Vasili Kravchenko
Sergey Remizov
Fyodor Kotilevski
M. N. Vinogradov
National minorities faction
Lorens Kun
Moisey Gukhman
Stanislav Vonsovich
Vasil Kujim
Dubrovski
Ollongren V. K.
Mikhailov S. M.
Armenian faction
Arshak Paronyan
Yervan Taghionosov
Isag Khojayev
Stepen Taghionosov
Georgi Shahnazarov
Dashnaksutyun faction
Arshak Malkhazyan
Khoren Amaspur
Pogos Chubaryan
Abgar Papyan
Alexander Ter-Azaryan
Bogdan Balayans
Papyan I.