Declaration of Independence
RESOLUTION OF THE NATIONAL COUNCIL OF AZERBAIJAN ON DECLARATION OF INDEPENDENT AZERBAIJAN STATE
May 28, 1918
The major provisions of the Declaration adopted by the National Congress read as follows: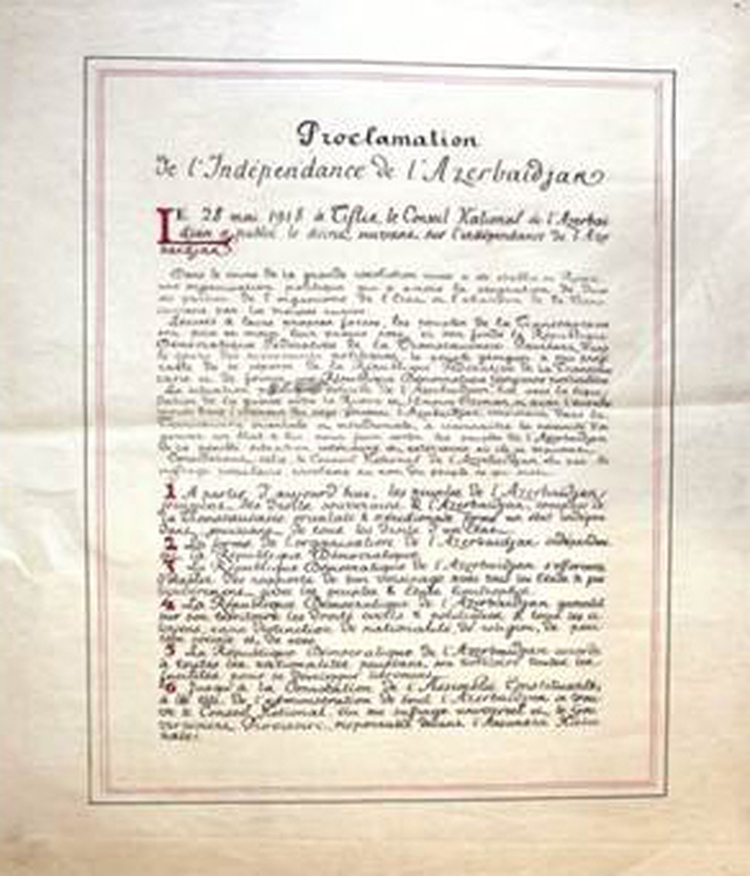 1. Starting from now on, Azerbaijan embracing the area of the South-Western Transcaucasia shall exist as an independent state enjoying all rights and realizing the right of the people of Azerbaijan to have a government.
2. Democratic Republic should constitute the form of government in independent Azerbaijan.
3. Democratic Republic of Azerbaijan intends to establish friendly relationships with all nations, particularly the neighbouring nations and states.
4. Democratic Republic of Azerbaijan guarantees the civil rights to all the citizens residing within its borders irrespective of nationality, religious confession, class affiliation, estate and sex.
5. Democratic Republic of Azerbaijan creates broad possibilities for independent development to all ethnic groups residing within its territory.
6. Unless the Constituent Assembly is convened, Azerbaijan shall be governed by the National Council elected by the people and the Provisional Government answerable to the National Council.
Azərbaycan Cümhuriyyəti Hökumət qanun və binagüzarlıqları məcmuəsi, 1919, №1, p. 5-7.